Sale
Description
Adding a CBMC lapel pin to any suit can be an easy and cost-effective way to customize your attire to your own personal style. Lapel pins, sometimes referred to as suit pins, are not designed to be distracting but are there to add a subtle air of 'dapper' to what should already be a well-fitting and stylish suit.
There has been a resurgence of the 'old world' look when it comes to men's suits and consequently vintage suit accessories, often worn with a contemporary twist, have made their way back into the sphere of popular fashion.
There is definitely a fine line between understated enhancement and novelty clutter when it comes to accessorizing your suit and, when worn correctly, the lapel pin will always ensure that your suit becomes the focus of many a compliment. This handy guide from Idle HQ will give all the tips and guidelines that you will need when choosing to wear the classic lapel pin.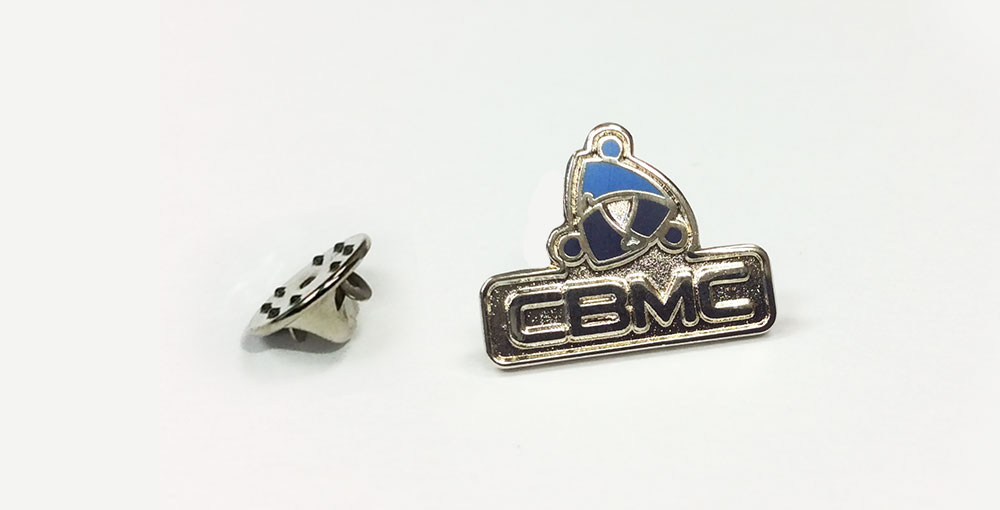 What Is a Lapel Pin?
A lapel pin is a small pin worn on the lapel of a jacket. Lapel pins are predominantly decorative but in some instances can indicate the wearer's affiliation with an organization or cause.
Suit lapel pins come in a variety of shapes and sizes and can be fastened to the suit jacket in a number of ways. The backside of a lapel pin, the part where it is fastened, can be just as important as the front. Not only for practical reasons as this is how the pin is held in place, but also because it can be another way to customize the pin to make it more unique.
How to Wear a Lapel Pin on a Suit
How to wear lapel pins and attaching a lapel pin needn't be a stressful process and following these simple instructions will ensure that your pin doesn't look awkward or droop against your lapels.
It is simple to attach a suit lapel pin if it has a butterfly clutch, a magnetic clasp or a screw and nut type fastening. In this instance it a matter of pushing the sharp point through the button hole on the lapel (if there is no button hole then just push through the material) until the point comes through the other side, and reattach the backing.
The pin should sit upright on your lapel and should be fastened tightly to ensure that it doesn't rotate when you move. When wearing a long-stemmed pin with a stick pin attachment, some gentleman choose to avoid having the pin showing on the front of the lapel, this is the more conservative option.
Having the pin showing on the front side of the lapel is a little more contemporary and can actually be used as a feature to give the pin more 'pop'. The colour of the metal should match your other suit accessories, such as your watch, belt buckle, or cufflinks.
For those gents that frequently wear long-stemmed lapel pins with their suits, they can ask a tailor to sew an unnoticeable thread onto the back of their lapel to hold their pin in place.
How to Wear a Lapel Pin: Colour
You've selected the correct size and style of your lapel pin and now it is time to conquer the question of colour. The colour of your lapel pin should work with the rest of your outfit using complimentary colours to enhance the accessories and not clutter the suit.
If in doubt, go with something neutral, like off white or grey.
Lapel pins often have to work alongside a tie and / or a pocket square and the key thing to remember is to avoid duplication. Therefore you should avoid wearing a lapel pin that has the identical pattern and colour to your tie and pocket square. Your accessories should compliment the rest of the outfit, and each other, but not match.
How To Wear A Lapel Pin
A lapel should always be positioned on your left lapel next to your pocket square. Wearing a pin on your right lapel, opposite your pocket square, will dull the impact of the accessories and look a little bit lost.
Wearing multiple pins is a tricky style to pull off and is only really acceptable if one of the pins is decorative and another is either promotional or symbolises a cause e.g. the red poppy for Remembrance Day.
Never use lapel pins as cuff-links.
As mentioned above, lapel pins can be worn for a number of formal and informal occasions. Make sure your lapel pin reflects this, for example, it's probably best not to wear a white carnation to a job interview!
Custom lapel pins can be a great way to personalize your suit but try to avoid gaudy designs such as your initials, a nickname, photographs, or logos.